THE IMPORTANT ROLES OF FOOTWORK AND GUARD HAND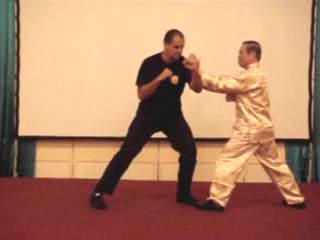 ---
---
Keeping correct spacing is very important when fighting against a Boxer, or any martial artist for that matter. If you can keep good spacing and with good body-movement, you can effectively overcome the speed of a Boxer's punches, which is his strong point. Having a good stance is crucial in keeping good spacing. With your guard hand in front, you will find that it is difficult for a Boxer to reach you even when he is fast, because as soon as he moves close enough you can strike him with your guard hand.
---
Please click the pictures below to view the videos
---
You can view all the above video clips by clicking the picture or the caption. Click the bottom right corner for enlarged viewing.
---
Secrets of the Internal Force Masters
LINKS