HOW TO HANDLE A BOXER BOUNCING AROUND YOU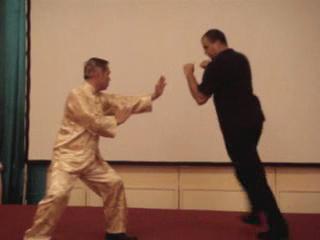 ---
---
When a Boxer bounces around you, a big mistake is to follow his steps and bounce with him. A good response is to observe him while at your stance and change steps when necessary. He may need to bounce five or six steps to go round to the other side, but you need only to change one step to face him. While he is bouncing around, you may break his momentum and move in swiftly to attack.
---
Please click the pictures below to view the videos
---
You can view all the above video clips by clicking the picture or the caption. Click the bottom right corner for enlarged viewing.
---
Secrets of the Internal Force Masters
LINKS