OVERWHELMING YOUR OPPONENTS WITH PRESSING ATTACKS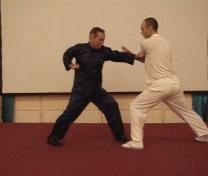 ---
---
"Pressing Attack" is a very effective tactic, often forcing an opponent against a wall. But you need considerable skills to apply this tactic well. Covering the opponent adequately so that he cannot attack you, is crucial. The secret of this tactic is to flow with the opponent and use his momentum against himself. Combat Sequence 7, "Thrust Kick", is an example of Pressing Attack.
---
Please click the pictures below to view the videos
---
You can view all the above video clips by clicking the picture or the caption. Click the bottom right corner for enlarged viewing.
---
Secrets of the Internal Force Masters
LINKS