THE SIMPLICITY AND PROFUNDITY OF BLACK BEAR SINKS HIPS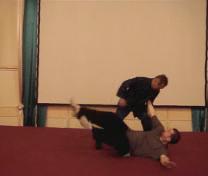 ---
---
The Combat Sequence "Black Bear Sinks Hips" is named after the pattern of the same name. It is perhaps the most amazing pattern in demonstrating the famous Taijiquan principle of using minimum force against maximum strength.
When an opponent tries to fell you, using for example an pattern like "Carry Tiger Back to Mountain", you merely sink your hips to fell him instead. A good stance is necessary for a successful application of this technique.
It looks so simple and remarkable that many people may not believe that it can work. You have to experience it yourself to appreciate its amazement.
---
Please click the pictures below to view the videos
---
You can view all the above video clips by clicking the picture or the caption. Click the bottom right corner for enlarged viewing.
---
Secrets of the Internal Force Masters
LINKS