SHAOLIN KUNGFU AGAINST BOXING AND KICK-BOXING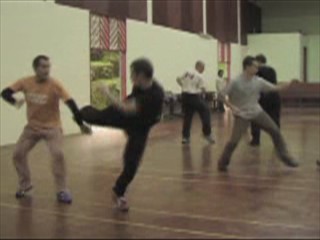 ---
Nowadays almost irrespective of what they practice, most martial artists spar like Boxers and Kick-Boxers. Hence, if you wish to be combat-efficient in Shaolin Kungfu, you must be able to apply it against Boxing and Kick-Boxing.
"Know yourself and know your opponent, and you will win a hundred battles out of a hundred battles," advised the great military strategist, Sun Tzi'. One of the great advantages Shaolin Kungfu has over Boxing and Kick-Boxing is its wide range of techniques. There are many attack techniques in kungfu where a Boxer or a Kick-Boxer would not have counters from his art. If you can apply these techniques systematically against a Boxer or a Kick-Boxer, you would have a good chance of winning. An excellent strategy is to use a chosen sequence to press in against a Boxer.
Unlike in the Intensive Shaolin Kungfu Course of October 2006 where all the participants were already familiar with the 16 Basic Combat Sequences before they attended the course, and hence there was more time for Grandmaster Wong to teach Shaolin combat against other martial art, in the Sabah course participants were asked to work out their own techniques and tactics against Boxers and Kick-Boxers. It was learning from direct experience.
As shown in the videos below, the participants did quite well, especially after Grandmaster Wong demonstrated using Sequence 10 to press in against a Boxer posed by George. Amongst the participants there were a few experienced Boxers, like Mark from Engand and Paul from Ireland.
Against Kick-Boxers, Grandmaster Wong recommended two strategies. One was to press in with a planned sequence after avoiding their kicks. The other was to fell them onto the ground after their kicks.
---
Please click the pictures below to view the videos
---
You can view all the above videos here
LINKS
Review of the Intensive Shaolin Kungfu Course in Sabah in March 2007
Courses and Classes