OBJECTIVES OF FORM TRAINING IN SOLO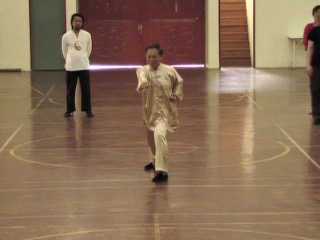 ---
Form training in solo is an important aspect in kungfu training. In fact, that is what masters normally do. However, most kungfu practitioners today do not realize the meaning or objectives in solo form training. They practice their forms almost solely for demonstration.
---
Pleasing spectators, of course, was never an objective of form training in the past. In genuine, traditional kungfu, solo form training accomplishes the following objectives
Performing kungfu techniques in picture-perfect forms
Breath control
Developing and exploding force
Developing correct and spontaneous responses
Developing speed and stamina
Being fluent in combat sequences
Practicing variations in combat
Practicing tactics and strategies
This video series show how participants at the Sabah Intensive Shaolin Kungfu Course of March 2007 accomplish some of these objectives in solo form training.
---
Please click the pictures or the captions below to view the videos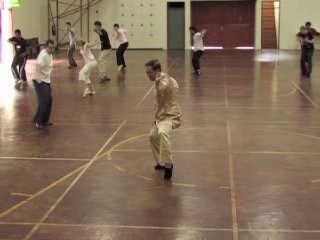 Here is the initiator's mode of Sequence 8. When your forms are correct, you should back up your forms with force. The force comes from flowing chi, and not from muscular tension. Hence, you can be forceful and fast, yet not tired or panting for breath.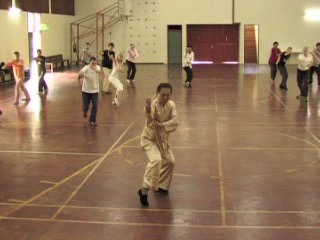 Here is the responder's mode of Sequence 8. First your forms should be picture-perfect. Next they should have force. Then they should be performed with speed. Practicing the sequence in solo is a good way to accomplish these important skills of correct form, force and speed.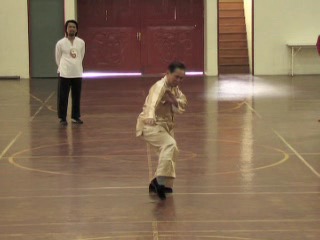 You should avoid in your practice of performing your forms incorrectly, without force and without presence of mind. This is jokingly called "opium smoking". Each time you practice, your movement should be a masterpiece, so that if you have practiced for three years, you have benefited for three years — not that you have conditioned yourself to bad habits for three years.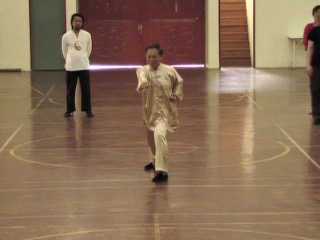 There must be power in your movements. The power comes from internal force and not muscular strength. Internal force is exploded from the dan tian in a punch and in a palm interception. If there is not sufficient force, an attacker's sweeping attack will break through the defence.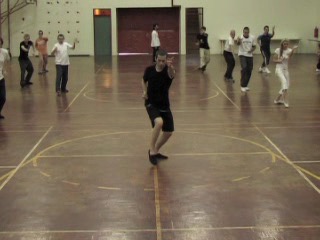 Here are Combat Sequences 5 and 6. The patterns in a sequence are not performed individually, but continuous as a sequence. The emphasis is not on speed, but on smooth flow of movements. The forms must, of course, be picture-perfect. If they are not picture-perfect, the student should go back one step to practice the sequences pattern by pattern instead of as sequences.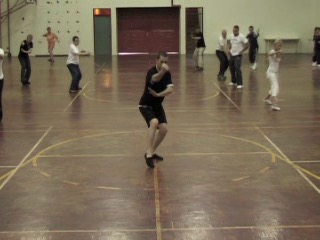 Here are Combat Sequences 7 and 8. Once a sequence begins, it continues smoothly to its completion without any pause in between. The whole sequence is performed in one breath, known in Chinese as "yeit hei hor seng" (Cantonese), or "yi qi ke cheng" (Mandarin). The practitioner must, of course, be very familiar with both the forms and their order of performance. Otherwise, he would have to go back one step to practice the sequences pattern by pattern.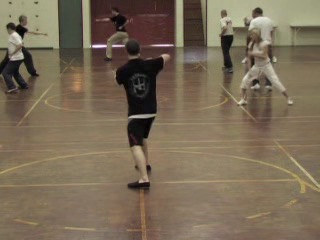 The four combat sequences, Sequences 5 to 8, are linked together to form a set. It is presented here in two parts. There is no break between the first part shown here and the second part shown in the following video clip. Each initiator's or responder's mode of a sequence is completed in one breath. The emphasis here is on correctness of form, force and fluidity of movement.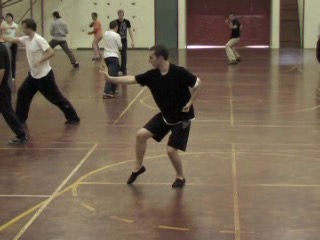 This is the second part of the set formed by linking the Combat Sequences 5 to 8. The first part shown in the previous video clip and the second part shown here should be performed continuously. This set is called "Fierce Tiger Speeds Through Valley", after the most popular pattern in the set. At the completion of performing a set, the practitioner should not be tired or out of breath, described poetic in Chinese as "mien pat koi yoong" (Cantonese), or "nian bu kai young", which literally means "there is no change in the appearance of the performer's face".
---
You can view all the above videos here
LINKS
Review of the Intensive Shaolin Kungfu Course in Sabah in March 2007
Courses and Classes