USING TEACTICS IN KICKING ATTACKS AND DEFENCES
By the courtesy of Ogingo Videography, Sabah, Malaysia.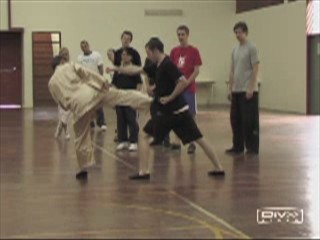 If all other factors were equal, using hand strikes in attack are more advantageous than using kicks. But in real life other factors are not equal. Therefore, there are combat situations where kicks are preferred.
Moreover, past masters also developed some useful tactics for kicking attacks. In other words, instead of moving into an opponent straight-away to kick, if you plan some preliminary moves to prepare for favorable situations, your kicks will be more effective. One such tactic is called pressing attacks.
You press into your opponent with hand strikes. When he is pre-occupied with your hand strikes, you suddenly kick him. On the other hand, you may tempt him to attack you. As he moves in to attack, you surprise him with a kick. You may allow him to attack you a few times before suddenly counter-attacking.
This video series introduce some tactics useful for kicking attacks and defences.
PLEASE NOTE: You can download the video clip onto your own computer and view them at your leisure. Place your computer pointer at the picture or one of the links, and right click. Choose "Save Target As". Select the directory or sub-directory where you wish to keep the video clip. Click "Save".
---
You can view all the videos here
---
Pressing an Opponent with Continuous Cannons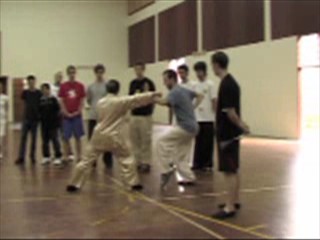 Grandmaster Wong presses his opponent with "continuous cannons". It is important that you must protect yourself against sudden counter-attacks when you press into an opponent. Here Grandmaster Wong covers his opponent well while attacking him.
The size of the video clip is 0.74 MB.
Click here to download.
Mechanics of Pressing Attacks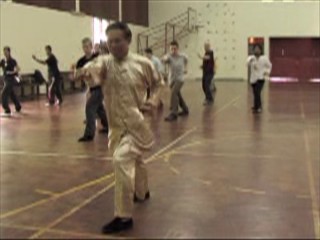 Grandmaster Wong demonstrates the mechanics of a pressing attack with two continuous cannon punches. This attacking sequence consists of "Black Tiger Steals Heart", "Single Tiger Emerges from Cave" and "Fierce Tiger Speeds Through Valley". You repeat this sequence over and over as you press into your opponent.
The size of the video clip is 1.40 MB.
Click here to download.
Surprise your Opponent with a Side Kick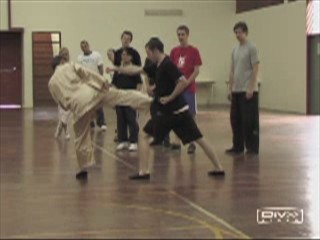 Grandmaster Wong presses in with continuous attacks, but purposely pauses to tempt the opponent to counter. As he counters, Grandmaster Wong surprises him with a side-kick, using the pattern "Happy Bird Hops up Branch". This tactic is called "Tempting an opponent to attack in futility, and suprising him with a counter". Grandmaster Wong explains that it is not necessary to hold the opponent's arm as you kick. In fact this may be a disadvantage. If he moves back he may pull you to fall over.
The size of the video clip is 0.89 MB.
Click here to download.
Lohan Strikes Drum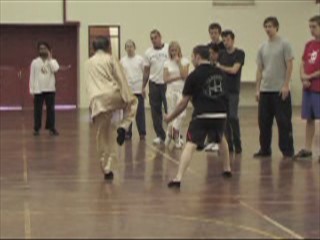 Sifu Jamie counters Grandmaster Wong's side kick with the pattern "Lohan Strikes Drum". This is the tactic of "no-defence-direct-counter" and is excellent against many tupes of kicks. In some other types of kicks, you may have to use other patterns though the tactic is the same. Here, Grandmaster Wong advises Sifu Jamie to use his knuckles, and not his wrist, in his strike, and to close an opponent before moving with follow-up strikes.
The size of the video clip is 2.01 MB.
Click here to download.
Using Tactics to Prepare for Kicking Attacks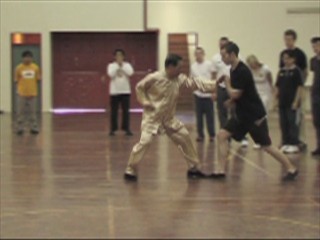 Grandmaster Wong and Sifu Jamie demonstrate Combat Sequence 9, which is called "Happy Bird Hops up Branch", after the kicking pattern. Sequences 9 to 12 introduce various kicking attacks and their defences. They also show some examples of useful tactics to prepare for your kicks, as well as tactics against kicks. Do you know what these tactics are?
The size of the video clip is 0.58 MB.
Click here to download.
Solo Practice of Sequence 9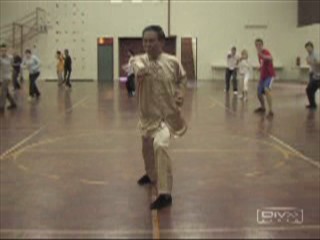 Grandmaster Wong leads the class in performing Combat Sequence 9 in solo. Solo form practice is an important aspect of kungfu training. Besides other benefits it enables you to be smooth and spontaneous in your combat application. Grandmaster Wong reminds the class that the front leg, not the back leg as is often mistaken by some students, is moved diagonally backward, and the foot position should be correct.
The size of the video clip is 1.71 MB.
Click here to download.
Practicing the Combat Sequence with Partners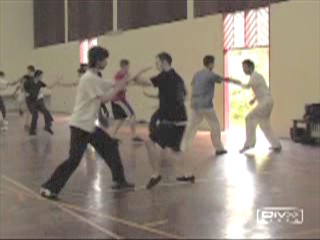 After you are smooth and spontaneous in performing the combat sequence, you practice it with a sparring partner. Those not familiar with combat training may say that in a real fight an opponent does not attack in a planned manner, implying that combat sequence practice where all the movements are pre-arranged, is not useful. Do you know why this argument is faulty, and that combat sequence practice is a very effective way to prepare you for real fighting?
The size of the video clip is 1.24 MB.
Click here to download.
We wish to thank Mr Godfery Kissey of Ogingo Videography, Penampang, Sabah, Malaysia for kindly provideing us with the videos. (Godfery is also a member of our Shaolin Wahnam Family.) His telephone number is 60-88-731788, and e-mail address is godfery@pc.jaring.my .
---
You can view all the videos here
LINKS
Review of the Intensive Shaolin Kungfu Course in Sabah in March 2007
Courses and Classes