BUTTEFLY PALMS AND HIDING FLOWERS ARE EXCELLENT IN COUNTERING FELLING AND GRIPPING ATTACKS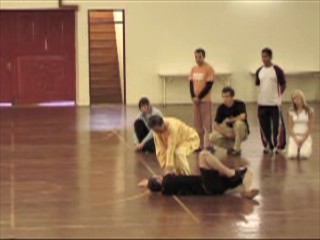 ---
All attacks can be generalized into four categories:
Striking
Kicking
Felling
Gripping
When you can counter these archetypical attacks, you can counter all attacks. Striking is emphasized in Combat Sequences 1 to 8, kicking in Combat Sequences 9 to 12, and felling and gripping in Combat Sequences 13 to 16.
When you throw an opponent backward using "Fell Tree with Roots", for example, you also grip his one arm under your elbow as well as his other shoulder with your other hand to prevent him striking you. When you trip your opponent using "Lead Horse Back to Stable" shown below, you grip his leading arm at his elbow and wrist with your both hands.
As you neutralize an opponent's felling techniques, you also neutralize his grips. "Double Butterflies Flying Together" and "Hiding Flowers in the Sleeves" are two excellent patterns to counter grips as well as felling attacks.
---
Please click the pictures or the captions below to view the videos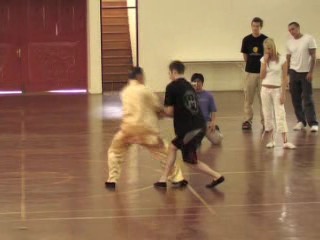 Grandmaster Wong attempts to throw Sifu Jamie to fall backward, but Sifu Jamie neutralizes the attack using Butterfly Palms. This pattern, "Double Butterflies Fly Together", neutralizes both Grandmaster Wong's grips on Sifu Jamie's arm and shoulder as well as the felling attack.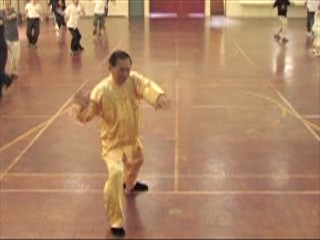 Here is the initiator's mode of Combat Sequence 13 which incorporates the backward felling technique pattern by pattern. Notice that each movement is performed as a masterpiece, not to please spectators but to enhance good health, vitality, longevity and combat efficiency.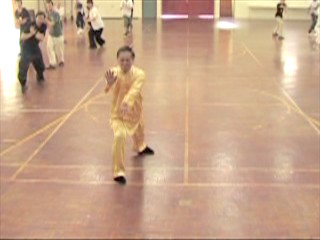 Here is the responder's mode of Combat Sequence 13, "Telling Tree with Roots". The patterns came about as a result of actual combat movements, and kungfu sets came about when patterns and sequences are linked together. In other words, first we had random fighting movements, then we had patterns and sequences, and finally we had kungfu sets.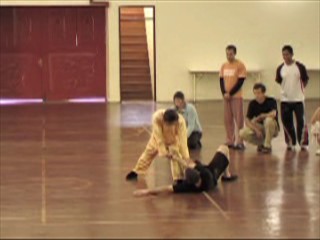 When an opponent attacks you with a "smooth step", which means his leading hand and his front leg are on the same side, you may fell him using "Fell Tree with Roots". But if he uses a "cross step", which means that his leading hand and his front leg are on different sides, fell him with "Lead Horse Back to Stable".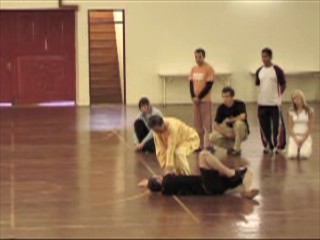 "Lead Horse Back to Stable" is demonstrated. "Qin-na" or gripping techniques are applied before felling your opponent. The felling technique here is tripping, i.e. placing your leg behind your opponent's leg to trip him to fall over.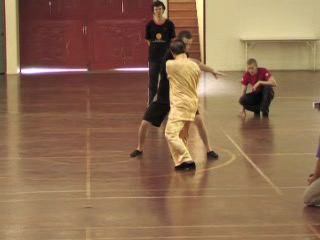 Here is a counter against a tripping technique using "Lead Horse Back to Stable". As an opponent places his leg behind yours, step over his leg, release his grip on your arm and strike him with "Precious Duck Swims through Lotus".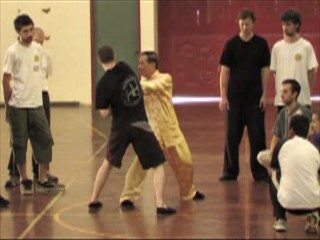 Two factors are involved in countering "Lead Horse Back to Stable" -- overcoming the felling technique and overcoming the grip on the arm. Following the momentum of the attack, you circulate your arm to release the grip, using the pattern called "Hiding Flowers in the Sleeves". You cover the opponent's hands and strike the opponent's dan tian with a level fist or a cup fist.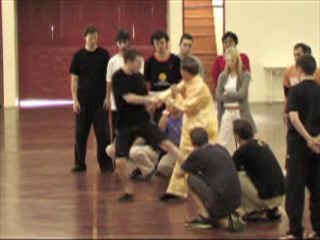 The various attacks and counters are now performed in one smooth flow, forming Combat Sequence 14. Indeed, when you are familiar with the individual patterns, the combat sequence should be performed smoothly and continuously as if the various patterns were one long pattern.
---
You can view all the above videos here
LINKS
Review of the Intensive Shaolin Kungfu Course in Sabah in March 2007
Courses and Classes