AVOIDING DISADVANTAGES AND SEEKING ADVANTAGES
By the courtesy of Ogingo Videography, Sabah, Malaysia.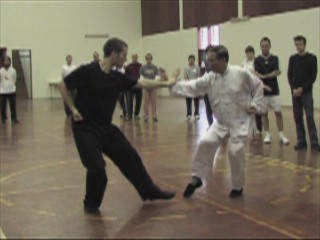 In today's free sparring, many martial artists do not realize that they have given away many disadvantages of themselves to their opponents, without their opponents having to do anything. This is what we call "free-offers". Some examples are rushing in to attack exposing their body openly, or kicking high and exposing their groin.
All the opponents have to do is to exploit these free-offers and defeat the attackers. However, their opponents often do not know about these free-offers, and hence cannot exploit them for their advantages..
In our combat training, the first principle is to ensure that we are safe. It doesn't mater if we lose a fight but come out unhurt. Some martial arts have a different philosophy. They advocate win at all cost, even sustaining serious injury. Such martial arts pay little attention to safety first. Some are meant to be sports, and as the practitioners are protected by safety rules they often neglect to ensure their own safety first in combat.
To ensure safety, we do not give away disadvantages to our opponents. Not covering the opponent's guard-hand before attacking, and adopting footwork that exposes your groin are obvious examples of free-offers. Less obvious examples are attacking while your chi is floating, and making movements without focus.
Then we should be able to recognize free-offers our opponent may give us and exploit them. But we need to be careful that they are free-offers carelessly made by our opponents and not feint moves or tactics to trick us.
If your opponents are well trained, they will not give away free-offers. In this case we have to create our own advantages. This can be realized by employing tactics and strategies.
The video clips show how you can avoid disadvantages and seek advantages as learnt and practiced at the Sabah Intensive Shaolin Kungfu Course in March 2007.
---
You can view all the videos here
---
Be elegant, focused at the dan tian and mentally calm and fresh
Correct Spacing in Responding to an Attack
The Three Points of Response
Weakness of Responding Too Quickly
Tactic of Minimum Force against Maximum Strength
Safety First and Exploding Force
Helping One Another in Combat Training
Threading to Minimize Opponent's Force
An Example of a Free-Offer
More Examples of Free-Offers
We wish to thank Mr Godfery Kissey of Ogingo Videography, Penampang, Sabah, Malaysia for kindly provideing us with the videos. (Godfery is also a member of our Shaolin Wahnam Family.) His telephone number is 60-88-731788, and e-mail address is godfery@pc.jaring.my.
---
You can view all the videos here
LINKS
Review of the Intensive Shaolin Kungfu Course in Sabah in March 2007
Courses and Classes