FREE SPARRING WITH PRESCRIBED CONDITIONS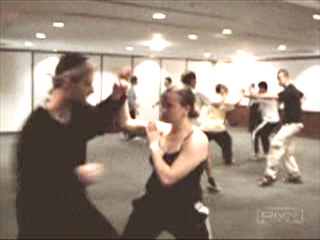 ---
Most kungfu practitioners today are unable to use kungfu patterns in free sparring. They resort to Kick-Boxing and other martial techniques, which they find more effective for their purpose. .They are unable use kungfu for combat not because kungfu is not combat effective, but because they have not been systematically trained to do so.
If we undergo systematic training in kungfu combat, we will find it more effective than using other martial techniques. This short video series shows our Shaolin Wahnam family members use kungfu effectively in free sparring.
The sparring is not totally free because they have to abide by certain conditions. The conditions here are that they have to use Combat Sequences 1 to 8, without making additions and subtraction. Hence, there are no kicks, felling techniques and grips in the sparring because these forms of attacks are not found in the prescribed sequences. The sparring is free because it is not pre-arranged.
Please note: you can download the video clips onto your own computer and view them at your leisure. Place your computer pointer at the picture or one of the links, and right click. Choose "Save Target As". Select the directory or sub-directory where you wish to keep the video clip. Click "Save".
Using Combat Sequences in Various Modes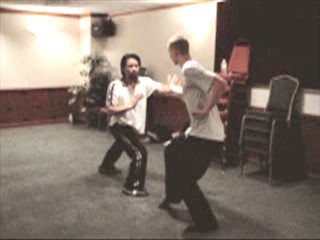 Participants apply combat sequences in various modes in their sparring. They are free to choose from any Combat Sequences 1 to 8 and use any modes. This video shows Dr Damian and James, and Alex and Innes sparring.
The size of the video clip is 1.26 mb.
Click here to download.
One Can Train to Use Kungfu in Free Sparring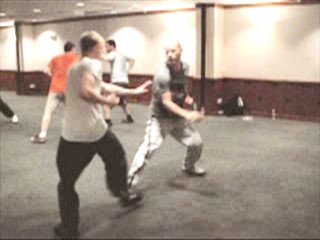 When most other kungfu practitioners today use Kick-Boxing and other marital techniques to spar, it is heartening to see so many of our Shaolin Wahnam Family members use kungfu in free sparring. Their example is good evident that one can learn to use kungfu to spar if he has systematic training.
The size of the video clip is 1.94 mb.
Click here to download.
Size and Sex do Not Matter Much in Kungfu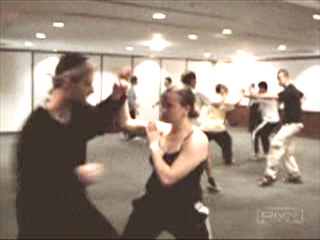 Not only we can use kungfu in our sparring, our female family members can be as strong as our male. It is inspiring to see Molly, being smaller in size besides being a woman, sparring effectively against Charles, a bigger-sized male. This is possible because Molly has developed internal force.
The size of the video clip is 1.03 mb.
Click here to download.
Free Sparring in our School is Fun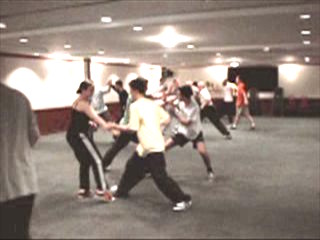 Our family members are obviously enjoying themselves in their free sparring. Aggression and injuries, which are quite common during free sparring in many other schools, are absent in ours. In fact free sparring in our school builds comradeship. They help one another for mutual progress and benefit.
The size of the video clip is 1.91 mb.
Click here to download.
Will the Training be Effective for Real Fights?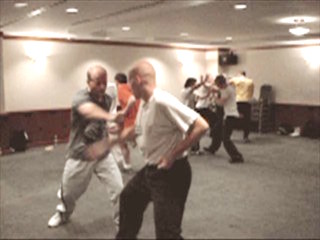 If we are not aggressive and do not hurt one another in our sparring, will this training enable us to be competent in real fights. Yes, it will. It has been proven so through centuries in the past, as well as by some of our own family members in real fights in the present. In fact, we are more combat efficient when we are calm than when we are aggressive, and a principal aim in sparring is not to be hurt.
The size of the video clip is 1.64 mb.
Click here to download.
---
You can view all the videos above by clicking the picture or the caption below

Free Sparring with Prescribed Conditions in Shaolin Kungfu from Wong Kiew Kit on Vimeo.
LINKS
How to Think and Act as a Master
Free Sparring with Prescribed Conditions
Courses and Classes