SOME EXAMPLES OF HIGH LEVEL COMBAT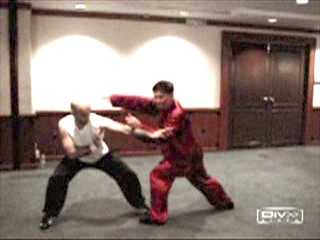 ---
How would you raise the level of your combat efficiency? Four effective ways are shown in this video series:
By raising the level of techniques.
By raising the level of tactics.
By raising the level of skills.
By raising the sophistication of footwork.
For example, instead of first deflecting an opponent's attack with a Single Tiger, and then countering with a Black Tiger, you can complete these two movements in one using "Green Dragon Shoots Pearl". Here, it is raising the level of both techniques and tactics. The skills in executing these techniques and tactics can also be raised.
A fourth way is to get behind your opponent to attack him. This requires agile and sophisticated footwork.
Please note: you can download the video clips onto your own computer and view them at your leisure. Place your computer pointer at the picture or one of the links, and right click. Choose "Save Target As". Select the directory or sub-directory where you wish to keep the video clip. Click "Save".
High Level even in first Combat Sequence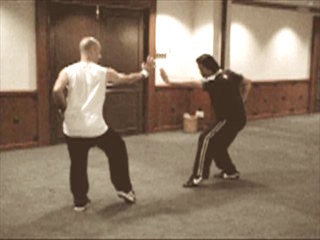 This is the first combat sequence devised by Sifu Anthony Korahais from his specialized Shaolin Pakua Set. But it is already at a high level of combat. Do you know why it is at a high level? Instead of applying the tactic of "first defence then counter" which is the norm in our first four basic combat sequences, Sifu Anthony uses the tactics of "defence-cum-counter" and "no defence direct counter".
The size of the video clip is 0.64 mb.
Click here to download.
High Level in Techniques and Skills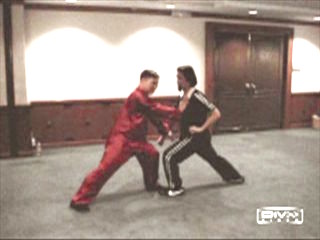 Being high level can be applied to techniques or to skills. The techniques of the first combat sequence of Sifu Anthony's Pakua Set, shown in the prvious video, are of a high level. Here Grandmaster Wong shows these high level techniques can be executed with high level skills. The opponent is struck as soon as he attacks! Someone asks Grandmaster Wong how he could counter against such high level techniques and skills.
The size of the video clip is 1.38 mb.
Click here to download.
Counters against High Level Attacks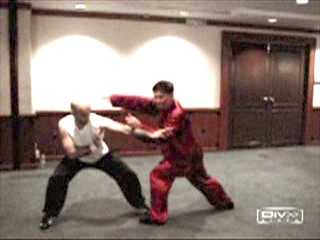 As Sifu Anthony applies the tactic of "no defence direct counter" to counter-attack Grandmaster Wong with the pattern "Swimming Dragon Plays with Water", Grandmaster Wong counters spontaneously with "Poisonous Snake Basking in Mist". On reflection, Grandmaster Wong chooses a pattern from Sifu Anthony's specialized set, namely "Golden Dragon Shoots Tongue", to counter the attack.
The size of the video clip is 2.00 mb.
Click here to download.
How to Get Behind an Attacker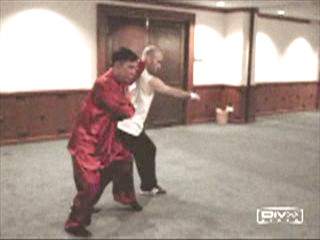 The Shaolin Pakua Set is noted for its excellent footwork. Grandmaster Wong often mentions that it was his good stances and footwork, more than his good techniques, that enabled him to win fights, including against multiple attackers, in his young days. Here he demonstrates how to get behind an attacker.
The size of the video clip is 0.43 mb.
Click here to download.
High Level Attacks and Counters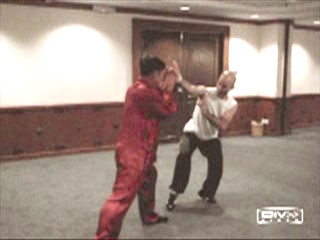 As Grandmaster Wong attacks from behind, Sifu Anthony turns around and "threads" away the attack. Grandmaster Wong suggests a better counter, using "Reverse Hand Steals Peach", taken from the Shaolin Pakua Set. Grandmaster Wong responds with a variation of "Yellow Bird Plays with Water", which is also another pattern from the Pakua Set. All these attacks and counters are impromptu.
The size of the video clip is 0.88 mb.
Click here to download.
---
You can view all the videos above by clicking the picture or the caption below

Some Exmples of High Level Combat in Shaolin Kungfu from Wong Kiew Kit on Vimeo.
LINKS
How to Think and Act as a Master
Some Examples of High level Combat
Courses and Classes