HOW YOU CAN DEFEAT YOUR OPPONENTS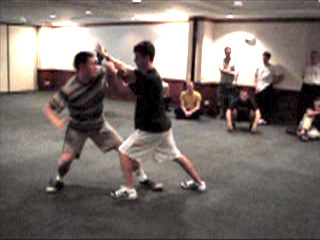 ---
If your opponent fights haphazardly but you use basic kungfu techniques, you are one level higher than him in combat efficiency. If he also uses basic techniques, then your levels are equal. To defeat him, you can improve your techniques, using sophisticated instead of basic ones, in which case you are still one level higher.
If all other factors were equal, you would beat your opponent if you are a level higher in techniques. But other factors are not equal. Even when you have better techniques, but if he uses effective tactics or his skills are better, he may still beat you. Hence, besides improving your techniques, you should also enhance your tactics and skills.
This video series show some of these lessons using a Five-Animal combat sequence as instructional material.
Please note: you can download the video clips onto your own computer and view them at your leisure. Place your computer pointer at the picture or one of the links, and right click. Choose "Save Target As". Select the directory or sub-directory where you wish to keep the video clip. Click "Save".
Good Footwork in High Level Combat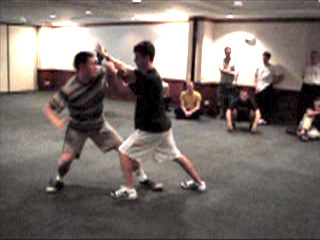 Grandmaster Wong further improves the level of combat with another case of improved footwork. Here he moves to the side or back of the opponent. But Nick is skillful. Using good footwork too, he directly counters without "bothering" to defend. As indicated by even this short encounter, good footwork is crucial in high level combat.
The size of the video clip is 1.50 mb.
Click here to download.
Raising the Level of Combat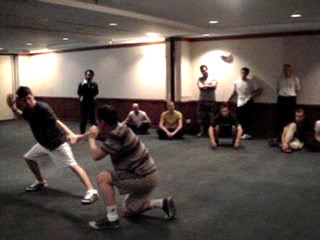 Chris and Nick now go over their improved combat sequence. It is obvious that the combat here is of a higher level than that in our basic combat sequences. There are at least three factors that raise the level of combat. Do you know what these three factors are? When you opponent is at an ordinary level, if you use even just one of these factors you would be one level above your opponent in combat efficiency.
The size of the video clip is 0.55 mb.
Click here to download.
Excellent Follow-up and Excellent Counter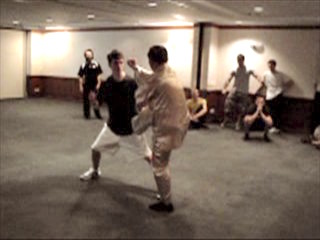 After the pattern "Hungry Leopard Watches Fire", Grandmaster Wong suggests an excellent follow-up with "Rising Dragon Galloping Tiger". As soon as the opponent sweeps your arm when you execute the leopard punch, spring up and simultaneously strike his head and kick his groin. Nick responds excellently with the pattern "Yellow Oriole Drinks Water" using the tactic of "no defence direct counter". His response is the more impressive as it is spontaneous, because Grandmaster Wong's attack is not pre-arranged but impromptu.
The size of the video clip is 1.30 mb.
Click here to download.
Returning Head Tiger-Tail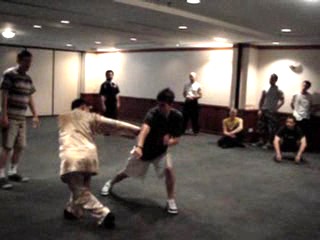 Chris and Nick go over the improved sequence. As Nick executes a phoenix-eye fist at Chris, Chris moves back to defend with the pattern "Dark Dragon Wags Tail". Grandmaster Wong improves the response using better footwork. Instead of moving back to defend, Grandmaster Wong moves to a side to counter-strike. As the double hanging-fists of "Dark Dragon Wags Tail" is too short to reach Nick's arm, Grandmaster Wong changes them to a hand sweep using the pattern "Returning Head Tiger-Tail".
The size of the video clip is 1.04 mb.
Click here to download.
Some Examples of High Level Combat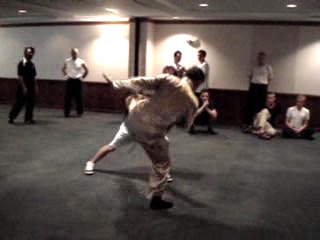 Nick gives an excellent response to Grandmaster Wong's double attack. Grandmaster Wong attacks Nick's head and groin at the same time. Instead of defending, Nick moves to a side and simultaneously counters with a phoenix-eye fist to Grandmaster Wong's ribs. Grandmaster Wong executes a turn-body jump in the air and kicks Nick's rib with the pattern "Naughty Monkey Kicks Tree".
The size of the video clip is 1.30 mb.
Click here to download.
---
You can view all the videos above by clicking the picture or the caption below

How You Can Defeat your Opponent from Wong Kiew Kit on Vimeo.
LINKS
How to Think and Act as a Master
How you can Defeat your Opponents
Courses and Classes