INCORPORATING KICKS INTO COMBAT SEQUENCES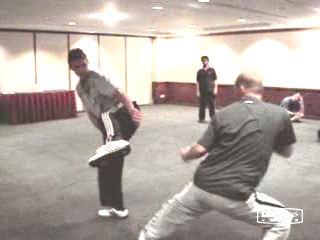 ---
Kicks are very important in kungfu. There is a kungfu saying that the hands open the way, it is the legs that defeat opponents. And although some people, without first checking the facts, may vehemently oppose this statement, there are more kicks in Shaolin Kungfu than in all other well known martial arts put together.
"Kicks" may not be a perfect translation of the Chinese term "thuei fatt" ("tui fa" in Mandarin pronunciation), which means "leg techniques", as there are some leg techniques, like "leg-drag" and "knee flick", which are not normally conceptualized as kicks.
Traditionally, there are "Thirty Six Leg Techniques" in Shaolin Kungfu. All the well known kicks in Taekwondo, Kick-Boxing and Muay Thai are found in these thirty six leg techniques, but some of these leg techniques, like step-kick and spade-kick, are not found in other well known arts. This and subsequent series capture the lessons course participants formulate combat sequences where kicks are incorporated.
Please note: you can download the video clips onto your own computer and view them at your leisure. Place your computer pointer at the picture or one of the links, and right click. Choose "Save Target As". Select the directory or sub-directory where you wish to keep the video clip. Click "Save".
Three Kicks in a Short Encounter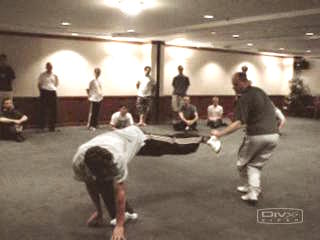 Steve and Andy are working out some kicking techniques from the Dragon-Tiger Set. In this short encounter, Steve uses three different kicks, as well as how to counter if an opponent has successfully grabbed your leg as you kick.
The size of the video clip is 0.62 mb.
Click here to download.
Grandmaster Wong Shares a Secret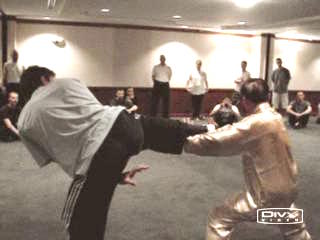 Here Grandmaster Wong shares a secret. He demonstrates a technique which he used against kicks when he frequently sparred with other martial artists, especially Taekwondo blackbelts, more than 30 years ago. He says this technique, implemented in the pattern "Double Tigers Subdue a Dragon", never failed him, and his opponents usually did not know what to do. But now Steve has an excellent counter, even with the addition of the deadly organ-seeking kick.
The size of the video clip is 0.99 mb.
Click here to download.
The Famous Tiger-Tail Kick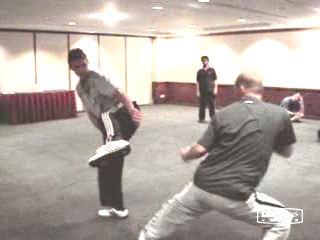 Steve and Andy go over the sequence slowly to take note of the fine points involved. Steve overcomes an opponent's gripping his leg with the famous Tiger-Tail kick. Andy responds with "Dark Dragon Wags Tail".
The size of the video clip is 0.85 mb.
Click here to download.
Incorporating Kicks in a Combat Sequence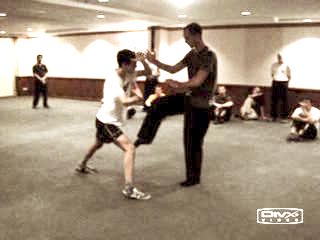 Sifu Innes and Alex go over the combat sequence they have worked out from their Five-Animal Set. A requirement for this combat sequence is that there must be some kicks. The movements are slow and hesitant because they have just formulated the sequence. When they are familiar with the sequence, they would be fast. Nevertheless, there are a few weaknesses in the responses. Can you detect them?
The size of the video clip is 1.91 mb.
Click here to download.
Improving Footwork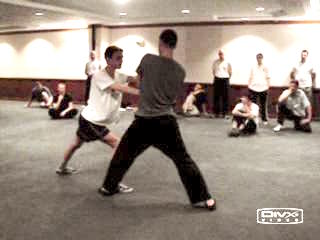 Grandmaster Wong helps Alex to improve his footwork. If you use a False-Leg Stance and an opponent moves in to attack, you can retreat by moving your back leg, not your front leg, backward. Alex did this too. So what was his fault? He did not move forward again when he applied the Double Tiger Claws. This can be accomplished by using a "drag-step", i.e. dragging the front leg forward.
The size of the video clip is 1.29 mb.
Click here to download.
More Elegant and Combat Effective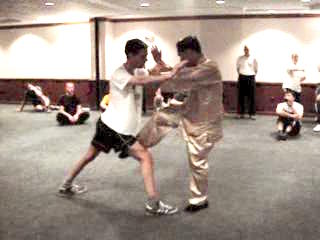 Here Grandmaster Wong helps Sifu Innes to improve his footwork. The movements are similar, but can you notice a difference in the effect? Grandmaster Wong's movement is not only more elegant, it is also more combat effective. He also guards against Alex's possible counter-attacks while applying the organ-seeking kick.
The size of the video clip is 1.47 mb.
Click here to download.
What are the Faults in this Response?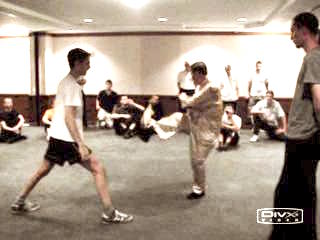 Alex' response to Sifu Innes's kick is awkward. Grandmaster Wong reminds them that while a sparring partner would control his attack, a real opponent wouldn't. We must always train realistically, though with control. What are Alex's faults in his response?
The size of the video clip is 1.41 mb.
Click here to download.
Improving Efficiency with Appropriate Stance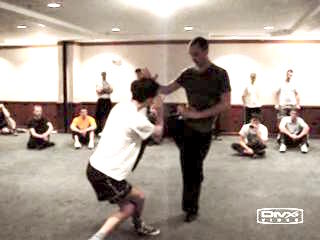 Alex rectifies his previous mistake of poor balance and open exposure by changing from a Bow-Arrow Stance to a Unicorn Stance. Grandmaster Wong helps him to improve further by proceeding from the Unicorn Step to a sideway Horse-Riding Stance.
The size of the video clip is 1.67 mb.
Click here to download.
---
You can view all the videos above by clicking the picture or the caption below

Incorporating Kicks into Combat Sequences from Wong Kiew Kit on Vimeo.
LINKS
How to Think and Act as a Master
Incorporating Kicks into Combat Sequences
Courses and Classes