COMBAT SEQUENCES TO TRAIN SPONTANEOUS ATTACKS AND RESPONSES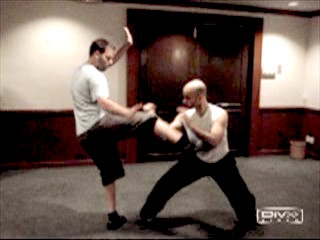 ---
Combat sequences play a crucial role in our sparring methodology. Combat sequences are pre-arranged; attacks and responses follow in a fixed order.
Some people may therefore wonder how training in combat sequences can lead to proficiency in free sparring and real fighting when these occur without any fixed sequence. They are not aware of the gradual and systematic release of control from pre-arranged to free sparring in our combat sequence training. They also fail to understand that a primary aim in combat sequences is to train correct and spontaneous attacks and responses in a cost-effective manner.
Please note: you can download the video clips onto your own computer and view them at your leisure. Place your computer pointer at the picture or one of the links, and right click. Choose "Save Target As". Select the directory or sub-directory where you wish to keep the video clip. Click "Save".
Kicks Must Arrive at Target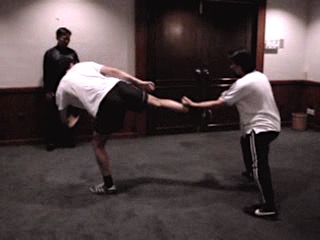 The course participants progress to the next stage, i.e. Combat Sequences 9 to 12, where kicks are used. Alex of England and Dr Damian of Malaysia review Combat Sequence 9, which involves a side-kick. Here, Alex's kick is too far from target.
The size of the video clip is 0.48 mb.
Click here to download.
Making Adjustment for Right Spacing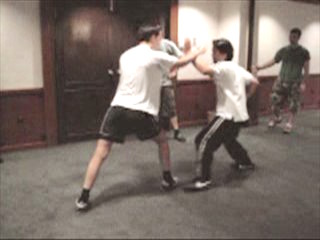 According to the routine, which is Combat Sequence 9, Alex is to kick with his right leg. But if he does so in this situation, his kick will not reach. Hence he makes an adjustment and kicks with his left leg. With practice, adjustments can be made instantaneously.
The size of the video clip is 0.70 mb.
Click here to download.
Move Back for Safety First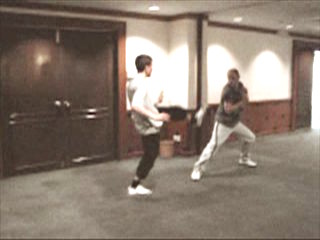 Adam and Andy are practicing Combat Sequence 10, which employs continuous cannons and a thrust kick in pressing attacks. But at the completion of the planned sequence, Adam is too close to Andy's defending hand. Grandmaster Wong advises him to move back for safety first.
The size of the video clip is 1.06 mb.
Click here to download.
Adjusting the Sequence for the Occasion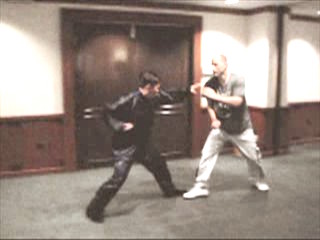 Grandmaster Wong explains the inter-relationship between Sequence 9 and Sequence 10. If your opponent counter-attacks after you have pressed in with two continuous cannons, lean back to execute a side-kick, which is likely to hit him as his attack has just spent. But if he hesitates, you move in swiftly with a thrust kick.
The size of the video clip is 1.20 mb.
Click here to download.
The Purpose of Routine Training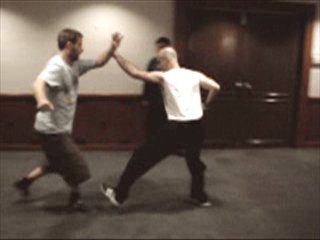 Sifu Rolland Mastel and Sifu Anthony Korahais review Combat Sequence 11. But real fights do not run in a planned routine, you may say. True, but routine training is to enable you to execute a series of attacks and responses correctly and spontaneously. Then you learn to make appropriate changes when opponents fight out of routine.
The size of the video clip is 0.93 mb.
Click here to download.
Training to Respond Correctly and Spontaneously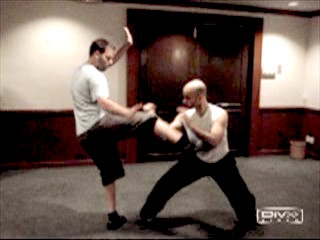 Here Sifu Rolland and Sifu Anthony review Combat Sequence 12. Routine training enables you to practice particular attacks and responses many times systematically. Hence, in a real fight if an opponent uses a similar attack, you can respond spontaneously and correctly.
The size of the video clip is 0.31 mb.
Click here to download.
Making Modifications to Suit Conditions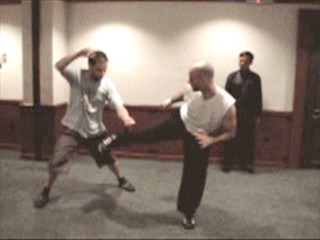 Sifu Anthony initiates an attack using a planned sequence. Sifu Rolland counter-attacks after the second move. Sifu Anthony spontaneously and correctly responds with a side-kick, using the tactic of "no-defence-direct-counter". He does not have to think of this response because he has been trained to do so. Sifu Rolland also does not have to think of what response to use. He responds spontaneously and correctly because he also has been trained to do so. Sifu Anthony retreats to a Unicorn Step because it is more spontaneous in this situation, instead of to a False-Leg Stance as planned in the routine.
The size of the video clip is 0.46 mb.
Click here to download.
Modifications on the Spot to Suit Conditions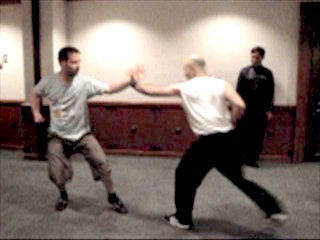 Here Sifu Anthony initiates with Combat Sequence 10. But he rightly skips the thrust kick, which is in the planned routine, because his opponent has moved too far back where the kick would be redundant. This is an example of making medications on the spot to suit existing combat conditions.
The size of the video clip is 0.45 mb.
Click here to download.
---
You can view all the videos above by clicking the picture or the caption below

Combat Sequences to Train Spontaneous Attacks and Responses in Shaolin Kungfu from Wong Kiew Kit on Vimeo.
LINKS
How to Think and Act as a Master
Combat Sequences to Train Spontaneous Attacks and Responses
Courses and Classes