TWO STORIES ABOUT KICKS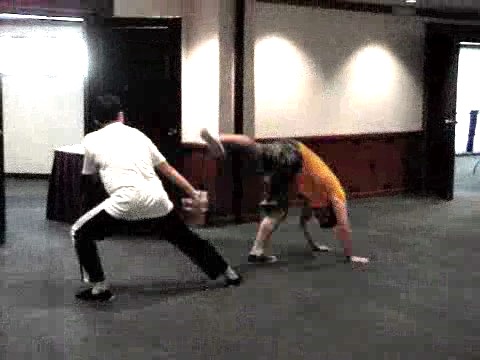 ---
Here are two interesting stories about Grandmaster Wong which he has told many of his inner-chamber disciples.
In his young days Grandmaster Wong used to search for black-belts for friendly sparring in order to confirm his combat efficiency. Taekwondo was very popular then, and many martial artists were at a loss of how to defend against the Taekwondo side-kicks. Grandmaster Wong learned an excellent counter from his sifu, Grandmaster Ho Fatt Nam, who taught him the pattern "Two Tigers Subdue Dragon". He used it so well that in his friendly sparring soon no one dared to execute side-kicks at him, as he would lock the opponents' kicking legs without fail.
Grandmaster Wong also learned the counter against this "Two Tiger" lock on the kicking leg. But before he had become skillful in its application, he tried it on his siheng, Ah Leong, in their free sparring. Ah Leong caught Grandmaster Wong's leg, and Grandmaster Wong attempted the counter. But Ah Leong responded with "Lead Horse Back to Stable" which resulted in Grandmaster Wong felling flat on his face covered with blood.
Pitying him, another siheng, Phok Kai (who you may remember caused an internal injury on Grandmaster on another occasion with a "gentle" punch two inches away) came over and whispered to Grandmaster Wong an important secret regarding this counter. Now you don't have to bloody your face to learn this secret.
Please note: you can download the video clips onto your own computer and view them at your leisure. Place your computer pointer at the picture or one of the links, and right click. Choose "Save Target As". Select the directory or sub-directory where you wish to keep the video clip. Click "Save".
Beautiful Patterns from Tiger-Crane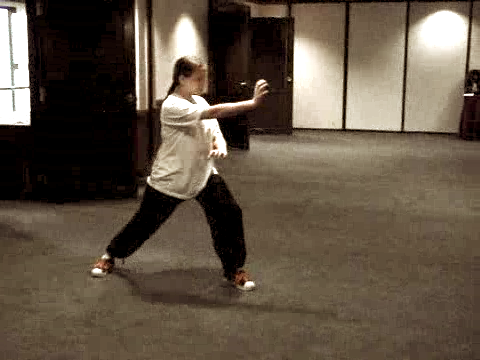 Molly demonstrates some beautiful patterns from the Tiger-Crane Set. Do you know how to apply them in combat? In kungfu, there is at least one combat application for every pattern. Some patterns may look simple, but their applications can be quite profound.
The size of the video clip is 1.54 mb.
Click here to download.
Executing Two Kicks Continuously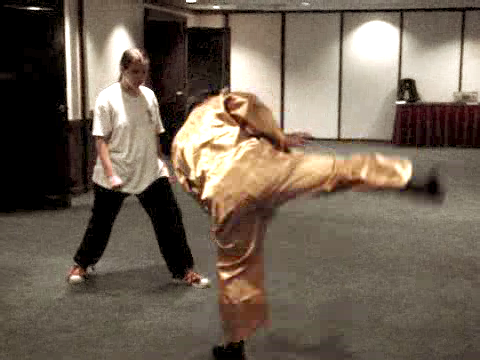 Grandmaster Wong suggests to Molly to lower her leg after the first kick before executing a second kick. What advantages can you think of with Grandmaster Wong's suggestion? And do you know why Molly are performing these patterns in this way.
The size of the video clip is 2.10 mb.
Click here to download.
Exploding Sound as your Explode Force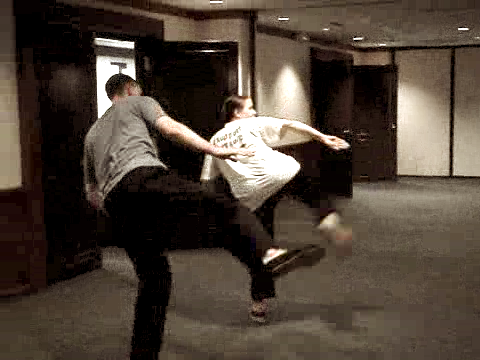 Grandmaster Wong asks Sifu Innes and Molly to explode their voice too when exploding force. Making appropriate sounds not only enhances the force but also regulates breath control. Do you know the combat applications of the patterns shown?
The size of the video clip is 1.36 mb.
Click here to download.
Kungfu Set from Attack and Defence Techniques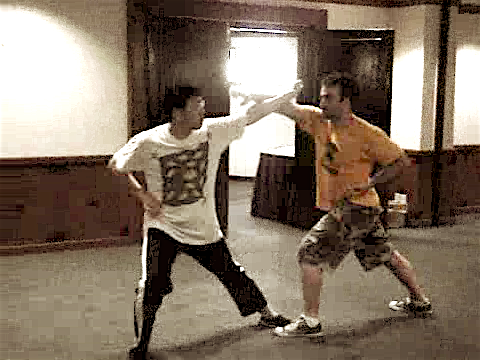 Now Molly's earlier performance of various pattterns becomes meaningful. It is a sequence of patterns used in combat as demonstrated by Wuji and Eugene. Can you see that the patterns Wuji and Eugene use are linked together to form a set demonstrated by Molly earlier?
The size of the video clip is 0.71 mb.
Click here to download.
Correct Leg for Better Flow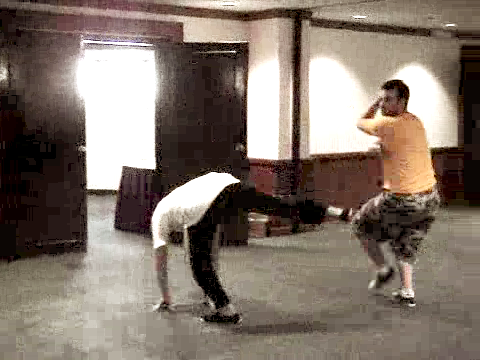 Why does Grandmaster Wong ask Wuji to use his left leg instead of his right leg to execute the organ-seeking kick? It results in a better flow of movements. Wuji uses his right leg because it is easier than his left leg to reach Eugene's groin. But if he sacrifices reach for better movement flow, Wuji can kick at Eugene's ribs instead of the groin.
The size of the video clip is 1.22 mb.
Click here to download.
Using Leg to Ward off Attacks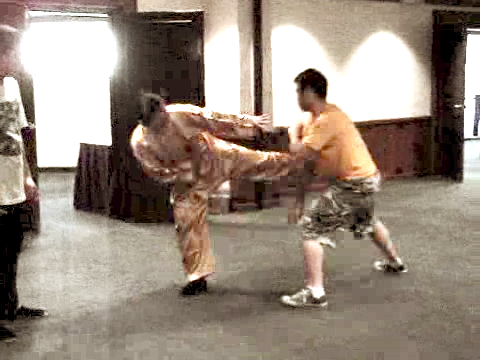 The techniques demonstrated here are quite advanced. Grandmaster Wong advises Wuji to use his leg to ward off Eugene's attack, and follow up with a side-kick. Because they are new to these techniques, their movements are hesitant. But with sufficient practice, their movements will not only be smooth but probably more sophisticated than many opponents can handle.
The size of the video clip is 0.92 mb.
Click here to download.
Excellent Counter against Side-Kicks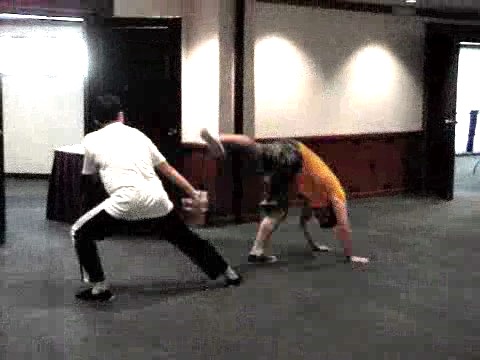 This video clip reveals some well-kept secrets. An excellent counter that Grandmaster Wong frequently used in his young days when sparring with Taekwondo masters, against a side-kick is the pattern "Double Dragons Subdue Tiger", which Wuji demonstrates. What would you do if your kicking leg is being held. Grandmaster Wong learned this counter a hard way, but is here demonstrated by Sifu Eugene.
The size of the video clip is 0.81 mb.
Click here to download.
---
You can view all the videos above by clicking the picture or the caption below

Two Stories about Kicks from Wong Kiew Kit on Vimeo.
LINKS
How to Think and Act as a Master
Two Stories about Kicks
Courses and Classes