AVOIDING A BOXER'S STRONG POINTS AND ATTACKING HIS WEAKNESSES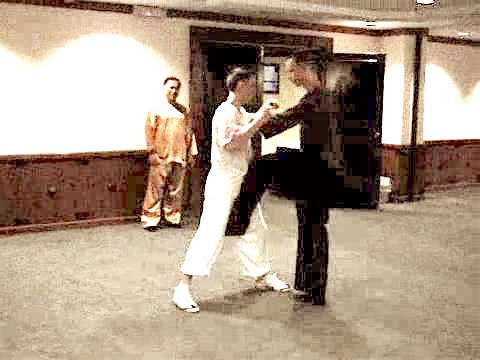 ---
An excellent combat principle is to avoid an opponent's strong points and attack his weaknesses. A Boxer's strong points are his fast punches and his agility. His weaknesses are many, and can be summarized into his grossly narrow range of techniques for both attack and defence.
A Boxer does not know how to kick you, apply locks on you, or fell you onto the ground. If you can successful apply these forms of attack on him, he does not know how to defend himself. If he ever uses these techniques, they are not from Boxing, but borrowed from other arts. This video series show some effective ways to handle a Boxer.
---
Please click the pictures below to view the videos
Monkey Patterns against a Boxer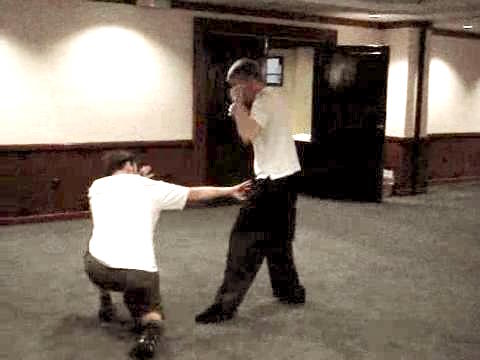 Sifu Roland uses some Monkey patterns against a Boxer, posed by Nick. Roland manages to hit the Boxer's groin but he himself is also exposed to the Boxer's punches from above.
Avoiding Opponent's Strong Point, and Attacking his Weakness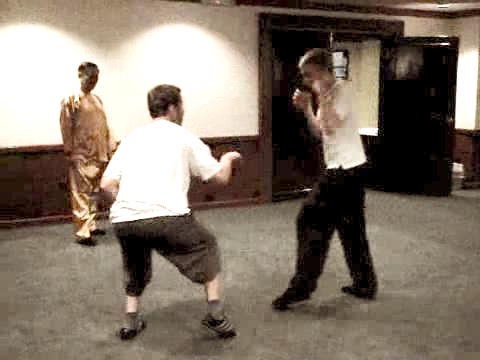 Roland uses the same technique but with much improved skill. The Boxer is caught by surprise. Grandmaster Wong compliments Roland for avoiding the Boxer's strong point and attacking his weakness.
Kicking at the Boxer's Groin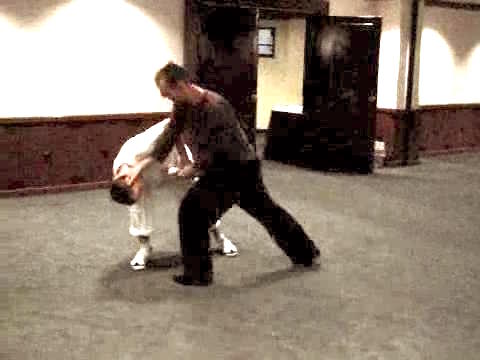 Peter gives the Boxer, posed by Adam, no chance. He kicks at the Boxer's groin, to which the Boxer has no defence from his art, and brings him down immediately, taking care to prevent the Boxer from counter-attacking.
Fui Sing Kicks the Bushel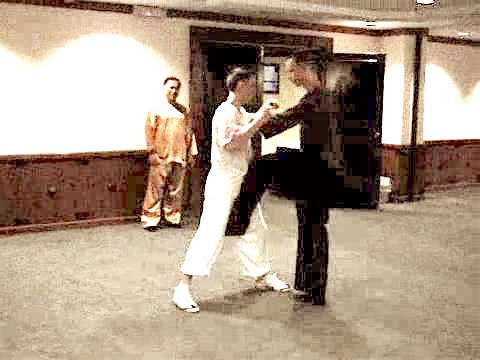 Peter demonstrates again the counter against a Boxer, using the pattern "Fui Sing Kicks Bushel" from the Dragon-Tiger Set. He improves his attack further by bringing the Boxer to the ground. "
Taming a Boxer to Strike Him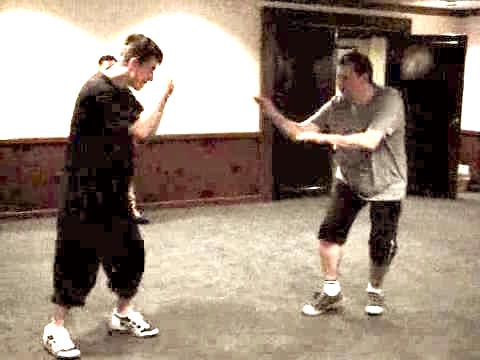 Chris tries to control a Boxer's punches using his hands and simultaneously attacks the Boxer with his legs. When he can "tame" the Boxer's hands, he moves in to strike him.
Bringing a Boxer to the Ground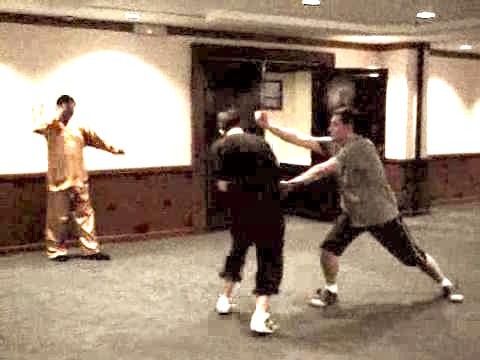 Chris again demonstrates his counter against a Boxer. Grandmaster Wong suggest that he should bring the Boxer to the ground, which makes him quite helpless.
Two Excellent Counters against Boxers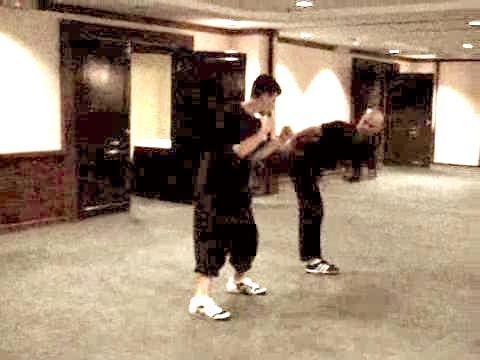 Sifu Anthony demonstrates two excellent counters against a Boxer. As the Boxer moves in, Sifu Anthony strikes his eyes with a snake-palm, or kicks him with a Tiger-Tail kick. His "Separating Dragon Hands" keeps the Boxer at bay.
Tiger-Tail Kick against a Boxer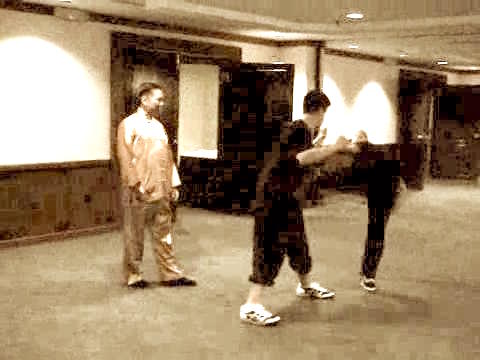 The Tiger-Tail Kick is an excellent counter against a Boxer. It does not matter what techniques the Boxer uses to attack. Just slant back the body and kick. If he moves in, strike him with a leopard punch, as demonstrated here by Sifu Anthony.
---
You can view all the videos above by clicking the picture or the caption below

Avoiding a Boxer's Strong Points and Attacking his Weaknesses from Wong Kiew Kit on Vimeo.
LINKS
How to Think and Act as a Master
Avoiding a Boxer's Strong Points and Attacking his Weaknesses
Courses and Classes