FROM PRE-ARRANGED SPARRING TO COMBAT EFFICIENCY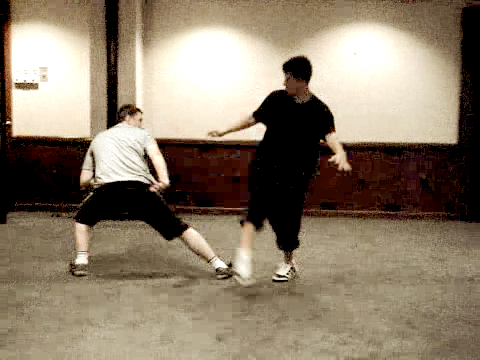 ---
The sparring in this and some other series are pre-arranged. Understandably, some people may wonder how one can be combat efficient if he practices pre-arranged sparring and not free sparring, when attacks in real fights come randomly.
This mis-conception is common among many martial artists today, and is a main reason why they cannot apply the techniques they have learnt in solo practice for free sparring.
Pre-arranged sparring is a first step. It is also a very important step where students condition themselves to use their kungfu techniques for free sparring later on. The full control in pre-arranged sparring is gradually and systematically released so that eventually they can spar freely.
Please note: you can download the video clips onto your own computer and view them at your leisure. Place your computer pointer at the picture or one of the links, and right click. Choose "Save Target As". Select the directory or sub-directory where you wish to keep the video clip. Click "Save".
From Pre-Arranged Sequence to Combat Efficiency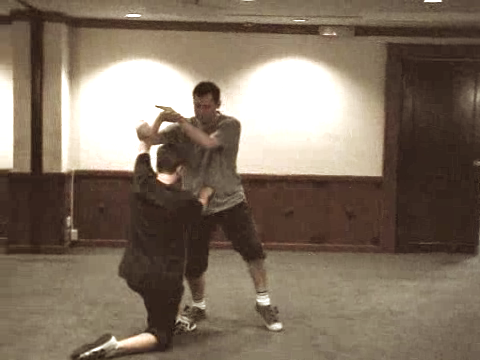 Nick and Chris go over their combat sequences, which are pre-arranged. Such training is very useful for combat efficiency. Do you know why practicing these pre-arranged sequences contribute much to combat efficiency?
The size of the video clip is 0.98 mb.
Click here to download.
Implementing Combat Tactics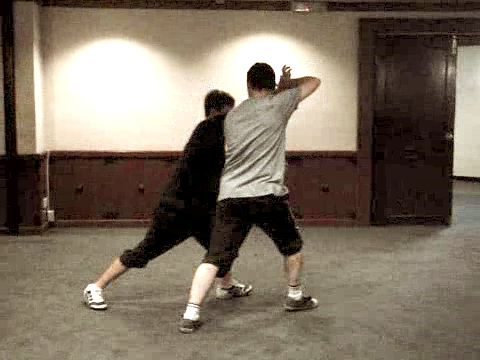 Sequence training enables us not only to understand and be able to apply appropriate techniques to various combat situations, but also to implement combat tactics. What tactics can you find in the video clip here?
The size of the video clip is 1.05 mb.
Click here to download.
No Defence Direct Counter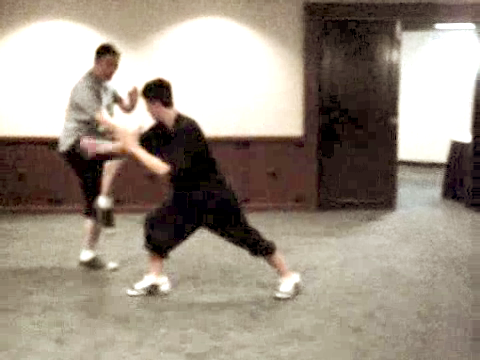 One obvious combat tactic found in this video clip is "no defence direct counter". This is an advanced tactic requiring much skill to be implemented effectively. How would you defend against or counter an opponent applying this tactic on you?
The size of the video clip is 0.88 mb.
Click here to download.
Beautiful Leg Techniques and Counters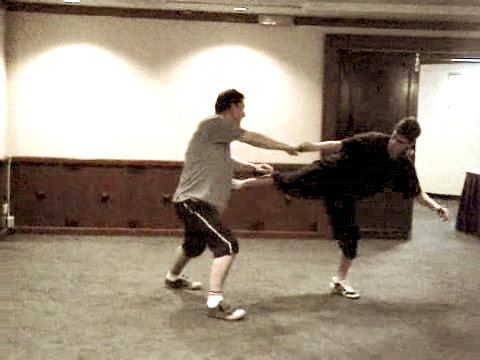 Nick and Chris demonstrate some advanced attacks using some beautiful leg techniques. Their counters are equally beautiful. Please note that in kungfu terms, leg attacks are not just kicks.
The size of the video clip is 0.94 mb.
Click here to download.
Size and Weight are not Decisive Factors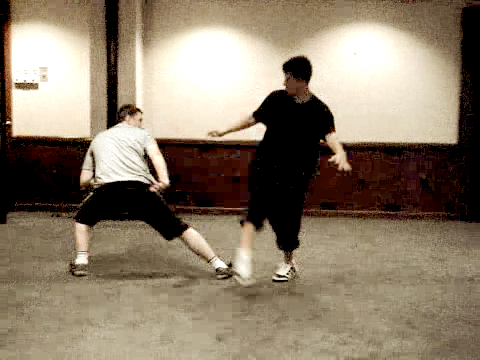 Nick and Chris continue their sparring. Chris is much bigger and heavier than Nick, but in genuine kungfu, size and weight are not decisive factors. It is also heartening that sparring in Shaolin Wahnam is injury free.
The size of the video clip is 0.97 mb.
Click here to download.
---
You can view all the videos above by clicking the picture or the caption below

From Pre-Arranged Sparring to Combat Efficiency from Wong Kiew Kit on Vimeo.
LINKS
How to Think and Act as a Master
From Pre-Arranged Sparring to Combat Efficiency
Courses and Classes