EFFECTIVE WAYS TO COUNTER SWEEPING KICKS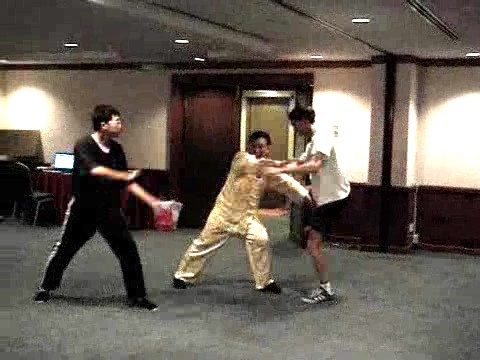 ---
Muay Thai sweeping kicks, similar to whirlwind kicks in Shaolin Kungfu, are formidable to many people. How do you block them, they think. As these kicks are very powerful, blocking them may result in the defenders' arm being broken. So they bounce away, and the Muay Thai fighters just move in to continue their attacks often driving the defenders into vulnerable positions.
But there are effective ways to stop these kicks, if you know how. One effective method is to intercept the kicks. Another effective method is to stay close to the Muay Thai fighter so that he cannot kick effectively. Other effective methods, like letting the kicks pass then counter-strike, are shown elsewhere.
Please note: you can download the video clips onto your own computer and view them at your leisure. Place your computer pointer at the picture or one of the links, and right click. Choose "Save Target As". Select the directory or sub-directory where you wish to keep the video clip. Click "Save".
Don't Block a Sweeping Kick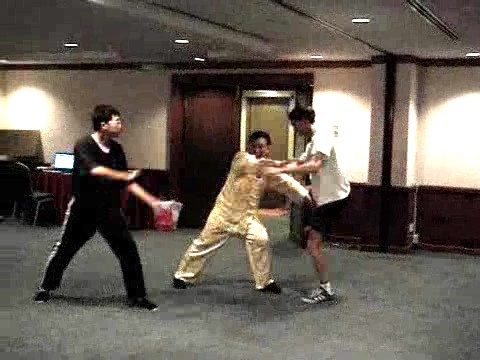 Sifu Zhang Wuji brushes away Alex's first sweeping kick, and blocks the second. Grandmaster Wong advises that it is unwise to block a sweeping kick of a Muay Thai fighter as this may result in fracturing the blocking arm. If we want to stop the kick, instead of allowing it to pass, we can intercept it at the upper leg, but we must not forget to guard against his hand attacks.
The size of the video clip is 1.07 mb.
Click here to download.
Intercepting Double Sweeping Kicks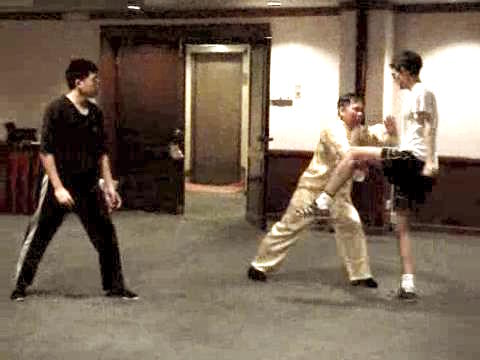 Grandmaster Wong demonstrates the fine points in intercepting a Muay Thai fighter's sweeping kick. If he jumps and kicks with the other leg, you can intercept the second Kick in the same way. Then follow up with decisive strikes
The size of the video clip is 0.95 mb.
Click here to download.
Using Retreat to Advance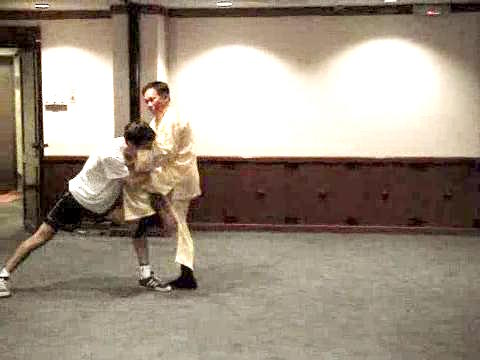 You can intercept the sweeping kicks of a Muay Thai fighter when they come from the sides. But what would you do if his attacks come from the centre, like knee jabs. An effective counter is to move back into a Bow-Arrow Stance and simultaneously strike the opponent with a palm. This is the principle of "using retreat to advance". But you have to guard his attacking leg.
The size of the video clip is 1.77 mb.
Click here to download.
Counter against Neck Grab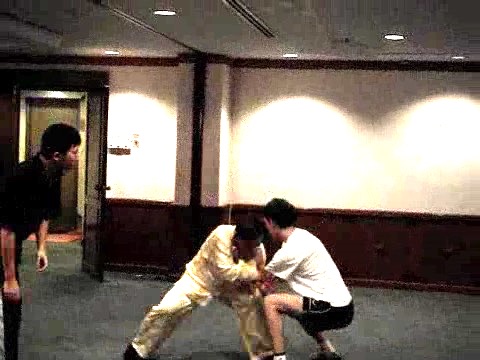 Sifu Zhang Wuji goes over the counters suggested by Grandmaster Wong. In his attacks, Alex grabs Sifu Zhang Wuji's neck. Grandmaster Wong demonstrates an effective counter against the neck grab.
The size of the video clip is 1.44 mb.
Click here to download.
Vanguard Reporting News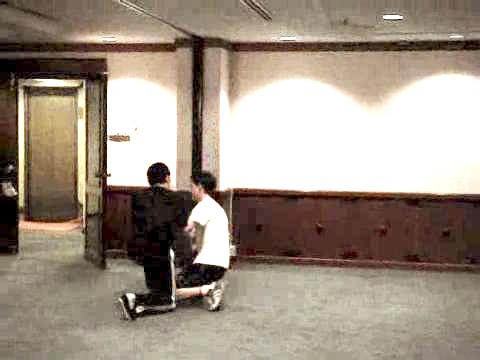 Sifu Zhang Wuji applies the technique recommended by Grandmaster Wong against the Muay Thai neck grab. The counter technique is called "Vanguard Reporting News" or "Seen Foong Pou Shun" in Chinese.
The size of the video clip is 0.92 mb.
Click here to download.
Fighting a Muay Thai Fighter at Close Queaters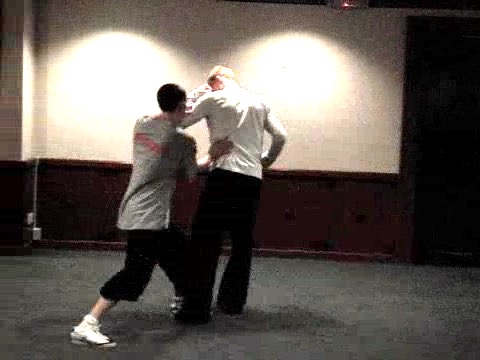 Peter poses as a Muay Thai fighter. Adam avoids his first attack. As he attempts his second attack, Nick closes in and strike his back. Nick also "tames" his leg so that he cannot execute his kicks. Fighting a Muay Tahi fighter at close quarters is a useful tactic.
The size of the video clip is 0.83 mb.
Click here to download.
Covering and Striking an Opponent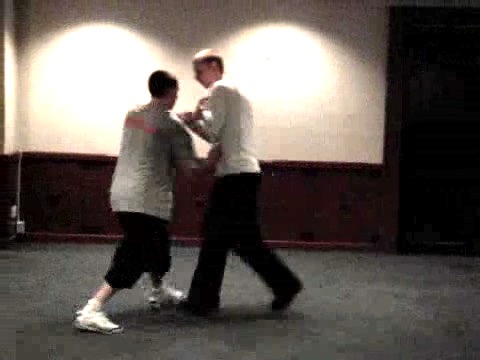 Adam shows another example of combat a Muay Thai fighter at close quarters. As soon as the Muay Thai fighter attacks, Adam covers him to prevent him from striking or kicking, and strikes him decisively. It is similar to fighting a Boxer.
The size of the video clip is 0.74 mb.
Click here to download.
---
You can view all the videos above by clicking the picture or the caption below

Effective Shaolin Techniques to Counter Sweeping Kicks from Wong Kiew Kit on Vimeo.
LINKS
How to Think and Act as a Master
Effective Ways to Counter Sweeping Kicks
Courses and Classes