BEWARE OF MONKEY TRICKS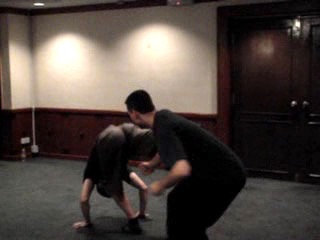 ---
Monkey Kungfu is full of tricks. The tricks are not noticeable to most people, otherwise they would not be tricks.
A skillful Monkey stylist would trick you to attack and defend in certain ways, often without you knowing. When you think you are gaining the upper-hand, he suddenly defeats you in surprise.
Sometimes a Monkey stylist may purposely let you grip him. Then he releases the grip and counter-strikes when you think you have him under control. Or he may give you a false opening. As you attack, thinking you have a good advantage, he manipulates your anticipated move to defeat you.
This and other video series on the Shaolin Monkey Set provide some interesting examples of Monkey tricks.
Please note: you can download the video clips onto your own computer and view them at your leisure. Place your computer pointer at the picture or one of the links, and right click. Choose "Save Target As". Select the directory or sub-directory where you wish to keep the video clip. Click "Save".
Avoiding a Chop on your Arm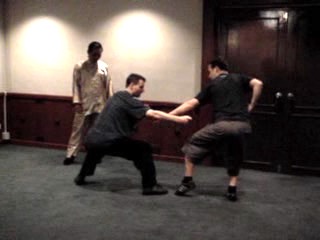 Having examined various counters to the throat-grip presuming that the grip is successfully applied, Charles and Sifu Roland continue with their planned combat sequence. If you execute a low punch and your opponent chops at your attacking hand, you must move it away, followed with whatever counter you find suitable.
The size of the video clip is 1.74 mb.
Click here to download.
Development from Basic Combat Sequences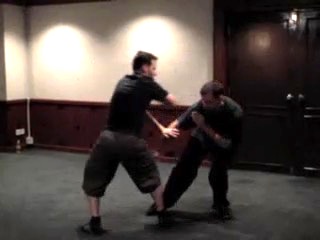 It is illuminating to note how this special combat sequence is developed from our basic combat sequences. For example, instead of using a Precious Duck, Charles uses a phoenix-eye fist. And instead of moving in a linear fashion, he moves to a side or behind his opponent.
The size of the video clip is 0.59 mb.
Click here to download.
Monkeys are good at Plucking Peaches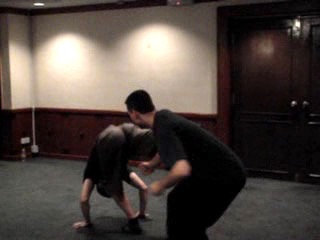 Beware of the Monkey! He is very good at plucking peaches. But before this peach plucking, Grandmaster Wong advices Charles to use more force, but not brutal strength, in his strikes. To avoid his peaches being plucked, Sifu Roland rolls away agilely.
The size of the video clip is 0.98 mb.
Click here to download.
Some Impromptu Monkey Tricks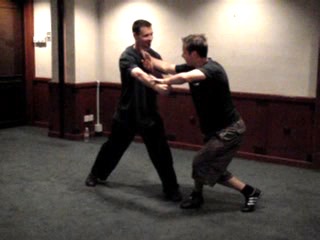 Charles and Sifu Roland go over their combat sequence. Charles decides to have some variations. Instead of threading away Sifu Roland's grip at his throat before it reaches its target, Charles allows the grip as a trap, then turns around with a Monkey Kick (similar to a Tiger-Tail Kick) using the pattern "Naughty Monkey Charges at Sand". Sifu Roland reacts spontaneously and pulls Charles forward. Charles follows the pulling momentum and strikes at Sifu Roland's head. Sifu Roland deflects the strike and could have continued with another deadly Monkey trick, but he lets it go. Do you know what this deadly Monkey trick is? These movements are impromptu and the spectators are obviously amused by their Monkey tricks.
The size of the video clip is 1.23 mb.
Click here to download.
Right Spacing for Better Advantages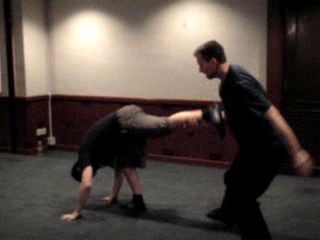 Charles and Sifu Roland resume their planned combat sequence. Grandmaster Wong interrupts to show a finer point in spacing. Instead of using a False-Leg Stance for the attack, Grandmaster Wong recommends a sideway Bow-Arrow Stance. What advantages can you see in the change of stances in this attack?
The size of the video clip is 1.04 mb.
Click here to download.
Another Monkey Trick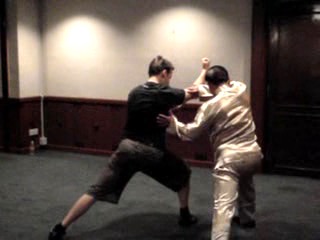 Here Grandmaster Wong explains the advantages of using the sideway Bow-Arrow Stance instead of the False Leg Stance. Using the False Leg Stance for this situation is clumsy, and it exposes Charles to counter-attacks. Notice that in the improved stance, Grandmaster Wong covers Sifu Roland's elbow, thus preventing possible counter-strikes. The sideway Bow-Arrow Stance better enables the practitioner to explode internal force. More importantly, though less obviously, it is another Monkey trick, creating a trap for the opponent to kick.
The size of the video clip is 1.15 mb.
Click here to download.
Reversing Disadvantageous Situations to Clinch Victory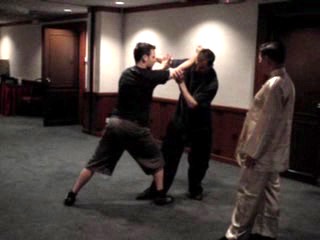 You should "tame" an opponent's hand with your palm, not with your fingers. This not only gives you better control but also better sensitivity to interpret his movements and intention. Sifu Roland removes the "taming hand" to counter with a "hanging fist", using effective footwork that puts the opponent at a disadvantage. Yet, this advantageous position for Sifu Roland provides a good opportunity for Charles to revert the situation. In high level combat, it is often situations like this that enable a master, who is initially in a disadvantageous position, to reverse the situation to clinch victory. Do you know how?
The size of the video clip is 1.26 mb.
Click here to download.
---
You can view all the videos above by clicking the picture or the caption below

Beware of Monkey Tricks from Wong Kiew Kit on Vimeo.
LINKS
How to Think and Act as a Master
Beware of the Monkey Tricks
Courses and Classes